Food safety ensures quality
MADA has always been aiming at offering its customers quality products that meet all food safety standards.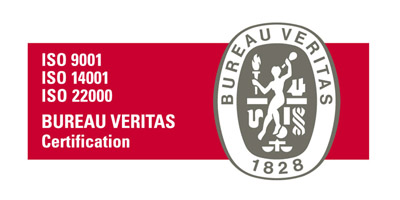 In 2000, MADA was ISO 9001 certified, thus attesting to the mastery of the requirements relating to its "quality management system".
This certification guarantees our customers that our processes are in line with their expectations.

This certification is checked and assessed every year during an audit organised by a certification body.
After a period of three years, a new certificate is issued.
In 2012, MADA was ISO 22000 certified. This certification specifies the requirements of a food safety management system that guarantee the delivery of safe products to our customers.
In 2020, MADA was awarded the ISO 14001 certification, which validates our environmental management system and includes themes such as sustainable development.
Quality is Customer Satisfaction
Customer Safety ensures Quality
MADA is first all qualitative, available, reactive and customer-oriented...
We want the best products for our customers with clear and transparent labelling of the ingredients. To achieve this, we orient our projects towards a "clean label" approach. We offer products that respect different technical specifications: gluten-free, allergen-free, colouring-free, flavour enhancer-free, additive-free, palm oil-free, hydrogenated fat-free, only based on natural flavours...
We have developed a range of high quality organic products for which we have rigorously selected organic raw food. All products are certified by ECOCERT and consist in a complete range for everyday use:
– Broth : vegetables, poultry and beef
– Juice : veal, poultry
– Aroma : fish
– Sauce : tomato, 3 peppers, béchamel
– Soup : vegetables, tomato vermicelli and chicken vermicelli